Coronavirus Notice: STUDIO IS CLOSED AGAIN !
 Je kan al onze lessen nu online via livestream volgen. Interaktief en echt leuk !
Schrijf je snel in, de link ontvang je via mail 30 min voor de les !!
Kan je er live niet bijzijn ?
Ga snel naar The Happy Yogi Online Yoga Academy, daar vind je een bibliotheek van meer dan 125 lessen. Van beginner tot gevorderd, van aktief tot rustig, van 10 min tot 1u !
Stay healthy,
Liefs Vanessa xx
The Happy Yogi
Welcome to The Happy Yogi website !
Are you ready to change your life ?
Whether you are a total yoga beginner, someone looking for healing from injury or any physical pain, searching for mindfulness and meditation to soothe a busy mind, or trying to master a difficult pose, i'm here to guide you every step of the way.
Yoga is a spiritual tradition with profound depth that you will experience on the way.
Yoga for ALL levels, All bodies, ALL genders, ALL races, All ages.
Studio classes
The studio is located in Bree, at Kim Clijsters Academy, surrounded by beautiful nature.
The Happy Yogi offers daily yoga classes in various styles  like Hot Yoga, Ashtanga Yoga, Yin Yoga & more.
Alle lessen zijn in het Nederlands. Studio classes are in Dutch.
Online Yoga Academy
Your yoga studio at home ! 24/7
Practice in the comfort of your home, on the go and whenever you feel like it.
Choose a quiet yin class, a sweaty ashtanga or a gentle morning flow. 10 min or 60 min class, it's all up to you !
Lessen zijn in het nederlands, binnenkort ook in het Engels !
Classes are in Dutch, soon also English classes.
Workshops & Retreats
The Happy Yogi offers a variety of inspiring workshops & host events with dedicated world renowed teachers.
The Happy Yogi Retreats are well known to be lifechanging, inspirational and magical.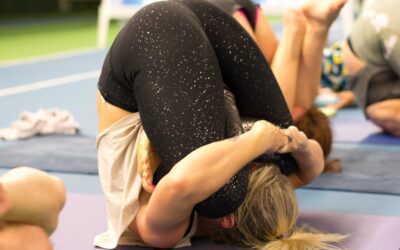 STAP DAGELIJKS OP JE YOGA MAT Je hoort het vaak genoeg zeggen, en ergens weet je ook wel dat dit je ontzettend goed zou doen. Maar toch lukt het je niet om dit constant te blijven doen . Waarom toch ? Wel, omdat dit absoluut niet makkelijk is, het vraagt...
Lees meer
' Ik ben dankbaar ' ​ 2020 was op zijn zachtst gezegd een uitdagend, verwarrend, angstig en moeilijk jaar voor de meeste van ons. We zijn ongerust geweest over onze gezondheid en over die van de mensen die we graag zien... Er zijn momenten van eenzaamheid geweest, het...
Lees meer
Super lekker bananenbrood dat ik écht niet voor mezelf kan houden ! Zelfs als je een echte dummie bent in het bakken, zal je dit zonder probleem en met veel trots serveren bij de thee ! Smakelijk ! Recept Vegan Bananenbrood INGREDIENTEN 4 bananen 8à Gr...
Lees meer
Get Your Free online Yoga Class!
A 20 min Yoga Flow for all levels for you.
Sign up and roll out your mat !
Opening Hours
Daily Classes
Address
The Happy Yogi
Kim Clijsters Academy
Watertorenstraat 16 A
3960 Bree - Belgium